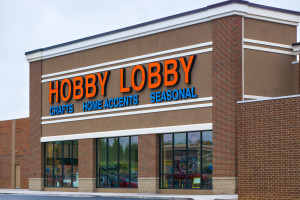 The Oklahoma Supreme Court last month that it is unconstitutional to deny an injured employee workers' compensation benefits because of missed medical appointments. The ruling came in a case filed against Hobby Lobby Stores Inc. by Brandon Michael Gibby, who injured his right wrist and left knee when he fell three to four feet from a pallet jack on Feb. 12, 2014. The company provided Gibby with temporary total disability and medical benefits, but challenged his right to receive permanent partial disability payments because Gibby had missed appointments with doctors.
Section 57 of Oklahoma's Administrative Workers' Compensation Act said that if an injured employee missed two or more scheduled appointments for treatment, the worker would no longer be eligible to receive benefits under the act. Exceptions were granted under that section if the missed appointments were "caused by extraordinary circumstances beyond the employee's control as determined by the commission," or in instances where the employee gave the employer at least two hours prior notice to the absence and had a valid excuse. Inability to get transportation to or from the appointment was not considered to be a valid excuse for missing an appointment.
An administrative law judge sided with Hobby Lobby and upheld the law, but the State Supreme Court overturned that decision and remanded the case back to the Oklahoma Workers' Compensation Commission. The court said employers have another option under the Workers' Compensation Act to discourage employees from skipping medical appointments. The employer or its insurance company can pay the physician and then ask the commission to order the employee to reimburse them for the cost. The commission is required to order the employee to pay that cost if there is no good-faith reason for missing the appointment. Most importantly, the court emphasized, "Taking away an employee's vested benefits because of missed appointments — an action based on fault of the employee — is invalid in a no-fault system."
This is the 44th provision of the newly-enacted Oklahoma Workers' Compensation Act that has been ruled unconstitutional since 2013. The provision is punitive in nature to injured workers in a no-fault system. Undoubtedly, the case is a big win for injured workers in the state of Oklahoma. I could not be happier knowing that the battle to better workers' comp system never stops.
The Poirier Law Firm has been selected for Client's Choice Award by Avvo. Our goal is to make sure that all of our injured workers promptly and efficiently, receive his/her necessary medical treatment. So if you or a family member have been hurt at work and have any issues with promptly receiving medical treatment, call Poirier Law today for help and for a free consultation. The Poirier Law Firm has represented injured workers for over 16 years. You deserve to have a zealous advocate in your corner!